Recently, Amazon released a new announcement stating that it will launch new tools for sellers of handmade products to help them improve operational efficiency. Meanwhile, due to system reasons, the flash sale activity for handmade category products has been temporarily suspended.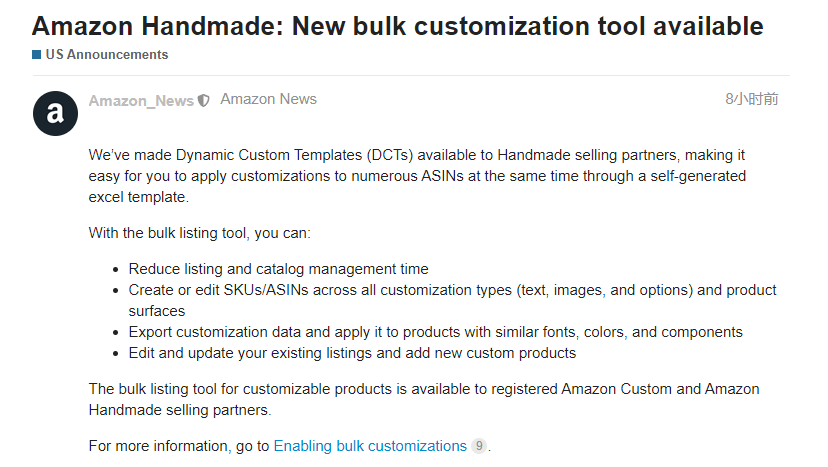 It is reported that Amazon will provideHandmade (Handmade) sales partners provide Dynamic Customization Templates (DCTs) to help sellers automatically generate Excel templates and apply their customization to multiple ASINs.
Use this batchThe listing tool provides sellers with the following assistance:
1Reduce list and directory management time
2Cross all custom types (text, images, and options)Create or edit SKU/asin on product surfaces
3Export custom data and apply it to products with similar fonts, colors, and components
4Edit and update the existing list of sellers and add new custom products
Subsequently, the sellers expressed their views on the tool in the message area.
sellerA: This is great! I can't wait to give it a try!
sellerB: Although I really like the new policy launched by Amazon this time, if it takes 20 steps to complete this operation, it won't help me, and I don't believe in Amazon's Excel upload function. I can't mess up my entire inventory by trying to use this tool.
Shopify has a great and simple download/upload system that manages inventory through spreadsheets. I don't know why everything here is so complex.
Although some sellers have doubts about the practicality of the new tool, most believe that the new tool can help sellers improve operational efficiency and reduce time and manpower losses.
It is worth noting that due to Amazon's need toHandmate product features have undergone technical updates, so starting from November 22, 2021, Handmate sellers have stopped creating flash sales. If the seller submits a flash sale activity before December 7, 2021, it will not be affected by this change; The flash sale event after December 7th will be cancelled and the fee will be refunded.
Amazon suggests that sellers can use the following transaction and promotion types:
1Sellers can use coupon options to offer customers discounts on individual products or a group of products. Customers can find coupons on the coupon homepage, search results, product details page, and shopping cart.
2Exclusive Prime Discount, which is only applicable to Prime customers. Products with exclusive Prime discounts will display underlined pricing and discount information for Prime customers on the product details page. The seller's product must be in FBA to participate in Prime exclusive discounts.
37 day special, which is a promotional offer with a time limit, where the product has a limited number of days to display on the Amazon special page.