Global eBay willThe inventory of 4.424 billion yuan was falsely disposed of in 2020, and it was once again inquired about by the Shenzhen Stock Exchange as a top seller in Shenzhen.
Global eBayFalse disposal4.4 billion yuan inventory
Yesterday,*ST Cross border Disclosure Announcement states that Cross border Communication received an inquiry letter from the Shenzhen Stock Exchange's 2020 annual report on May 16, 2021, and responded and announced on June 2. We have now provided supplementary responses to some of the inquiries at that time.
Cross border generic name, its subsidiariesGlobal eBay willThe inventory of 4.424 billion yuan was falsely disposed of in 2020, including a false increase in operating costs of 1.779 billion yuan and a false cancellation of inventory of 2.645 billion yuan in 2020 (corresponding to impairment provision of 2.479 billion yuan). The purpose of Global eBay's actions is to digest the inflated inventory.
It is understood that the Shenzhen Stock Exchange has previously issued an inquiry: your company disposed of the original value of impairment inventory that has been provisioned for the previous yearRMB 2.645 billion, including the purchase of RMB 630 million of goods by the subsidiary Hong Kong Global, and the disposal of RMB 1.779 billion of goods stored in other overseas warehouses. The company failed to provide corresponding original vouchers and approval materials, and the accountant was unable to determine whether the inventory of goods, accounts payable, and main business costs were truly accurate.
In addition to mentioning false disposal of inventory, the response from Cross Border Communication also mentioned other key issues.
In response to the failure to provide invoices and valid evidence during the annual audit, Cross border Express stated that,In 2020, the financing scale of Global eBay decreased, and due to tight funding, promotion and logistics were unable to meet business requirements, resulting in a decrease in revenue. The business downturn has led to a large number of employees leaving in search of better job opportunities.Due to the lack of consensus on severance pay and compensation, some personnel who are in contact with finance did not complete the handover procedures when leaving, and the finance personnel did not timely and fully obtain the accounting vouchers, resulting in the failure to provide relevant original vouchers and approval materials as required by the annual audit accountant.
The inability to provide invoices is also related to the failure of employees to complete handover procedures after leaving, indicating the large number of resigned employees. Based on previous reports,In 2020, the number of employees at Global eBay decreased from 3353 to 885, with a reduction of 3/4. In August of this year, a former employee of Global eBay revealed that the company had issued a notice for some positions to be on vacation and listed 151 employees on vacation.
In the inquiry about logistics costs, Cross border Express verified that the logistics costs mentioned,The expenses of 129 million yuan generated in 2020 belong to cross period expenses, that is, expenses that should be attributed to 2019 are recorded from cross period to 2020, so the company reduced its sales expenses by 129 million yuan in 2020.

(Image source*ST Cross border Announcement)
While the business scale has decreased, there are also some other losses from cross-border communication, which come from accounts receivable.In 2020, the company had accounts receivable of 82.65 million, corresponding to the following customers: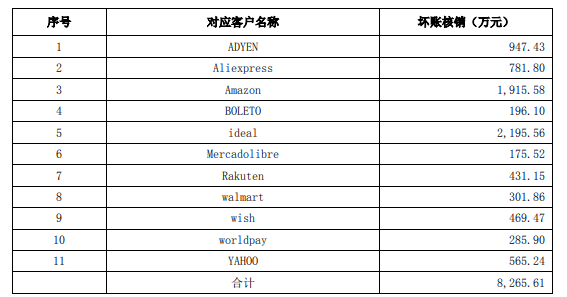 (Image source*ST Cross border Announcement)
When replying to whether there are fictitious transactions or fictitious income in these accounts receivable of the Shenzhen Stock Exchange, the cross-border general termAmong the above accounts receivable, there areabout three hundred and sixty-two50 thousandYuan belongs to the commission handling fee that has been deducted by overseas payment platforms,Remainingabout46.41 million yuanDue to the lockdown of Chinese seller accounts by overseas websites such as Amazon, the company's seller accounts are expected to be uncollectible due to the lockdown.
Due to poor management, cross-border communication has suffered significant losses in recent years,In 2019, the loss was approximately 2.7 billion yuan, and in 2020, the loss was as high as 3.374 billion yuan, with the main source of revenue being Global Ease, which suffered a loss of 2.95 billion yuan. In the past two years, the revenue of Global eBay has sharply declined, reaching 8.506 billion yuan in 2019 and 5.629 billion yuan in 2020,
stay*ST cross-border disclosure of the false disposal of 4.424 billion yuan of inventory by its subsidiary, Global Ease, has attracted attention. Subsequently, the Shenzhen Stock Exchange issued a further inquiry letter, requesting * ST cross-border to provide a detailed explanation of the specific year and corresponding amount in which Global Ease falsely transferred transaction funds to inventory of 4.424 billion yuan, and to provide a full provision for 2 value reduction in the corresponding year and corresponding amount. The Shenzhen Stock Exchange pointed out that * ST cross-border is requested to provide written explanations on the above issues, and relevant accounting firms will carefully verify and express clear opinions. Relevant explanatory materials will be submitted to the Shenzhen Stock Exchange and disclosed to the public before December 31, 2021.
When the internal issues of Global eBay have attracted attention, there has also been some new progress in its supplier debt issue.
In bankruptcy liquidation, the court notified Universal to declare debts
Due to debt issues, Global eBay has been frequently sued,In June, the big seller was filed for bankruptcy, sparking heated discussions within the industry. However, due to insufficient evidence, the bankruptcy application was not accepted at that time.
On November 24th, Shenzhen Zhongan Xunshi Technology Co., Ltd. applied to the Intermediate People's Court of Taiyuan City, Shanxi Province for bankruptcy liquidation of Shenzhen Global E-commerce, citing its inability to pay off its matured debts and obvious lack of solvency. Finally, the Taiyuan Intermediate People's Court ruled to accept the bankruptcy liquidation application filed by Shenzhen Universal by China Anxun Television. Subsequently, the Taiyuan Intermediate People's Court issued a "Civil Ruling Paper", ruling to seize all assets of Shenzhen Global.
The bankruptcy of Global eBay was settled, but it attracted inquiries from the Shenzhen Stock Exchange. The parent company Cross Border Communication is required to explain whether the loss of control over Global Ease Buy and its compliance with the merger scope will have a material impact on the elimination of matters that cannot be expressed in the company's annual report, and to supplement the reasons for the failure to timely disclose information on Global Ease Buy's application for bankruptcy liquidation.
Soon, Cross border Express provided a decent response.
On December 11th, Cross border Communication released a notice on the progress of bankruptcy liquidation of Global E-Buy, stating that Shanxi Guojin Law Firm, the administrator of Shenzhen Global, has completed the handover of Shenzhen Global's official seal, certificates, account books and other materials, and has taken over the management rights of various assets and businesses of Shenzhen Global. The company has lost control over Shenzhen Global, and Shenzhen Global will no longer be included in the company's consolidated financial statements.
The bankruptcy of Global eBay has left a group of suppliers demanding payment uncontrollable, following the order of bankruptcy settlement(1. Wages and labor insurance expenses owed by bankrupt enterprises to employees; 2. Taxes owed by bankrupt enterprises; 3. Bankruptcy claims, The heavily indebted Global eBay may not be able to pay its suppliers after bankruptcy liquidation.
In fact,On December 10th, the Taiyuan Intermediate People's Court issued a notice informing the notified unit to declare debts to Shanxi Guojin Law Firm, the manager of Global E-commerce, within 30 days, stating in writing the amount of the debt, whether there is property guarantee, and whether it is a joint and several debt, and providing relevant evidence and materials.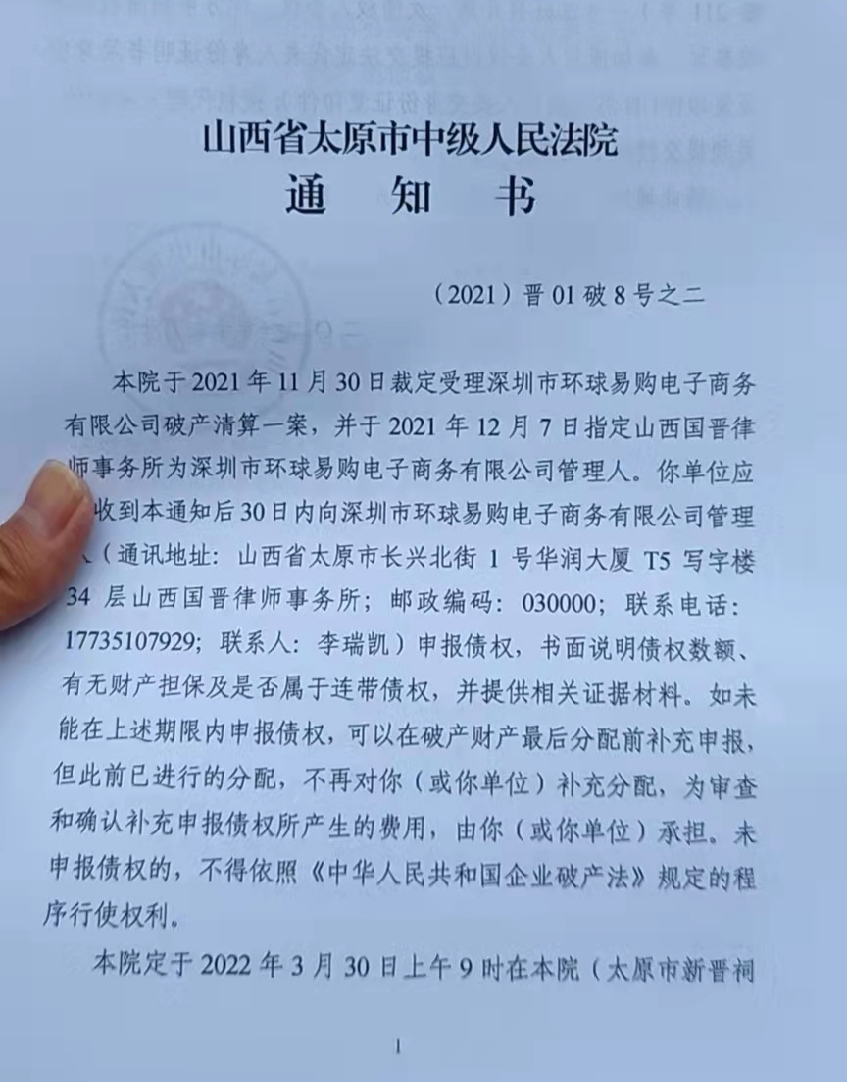 If the creditor's rights cannot be declared within this period, supplementary declarations can be made before the final distribution of the bankruptcy property. However, the distribution that has already been made before will no longer be supplementary to the undeclared person. The expenses incurred for reviewing and confirming the supplementary declaration of creditor's rights will also be borne by the undeclared person. Those who have not declared their debts shall not exercise their rights in accordance with the procedures stipulated in the Enterprise Bankruptcy Law of the People's Republic of China.
According to the notice, the Taiyuan Intermediate People's Court willOn the morning of March 30, 2022, at 9:00 am, the first creditors' meeting was held in its No.1 court. Units that received the notice have the right to participate after declaring their claims.
Half a month after the notification was issued, a large number of suppliers have not yet received the news. In a rights protection group, a supplier presents the notice, and within the groupMore than 200 suppliers, most of whom have stated that they have not received this important notice.
After contacting the manager's law firm, the supplier entered a creditor group, and the group announcement prompted to download the debt declaration form, which includesThe "Notice on Declaration of Creditor's Rights in the Bankruptcy Case of Global E-commerce" and the electronic version of the Taiyuan Intermediate People's Court Notice. Although the hope of receiving the money is slim, multiple suppliers are still trying their best to fill it out, which may be their last chance.