A sweater was recalled due to excessive lead content in zipper.
Recall cases are often heard, among which clothing is also a regular customer. Recently, a sweater was recalled because the lead content in the zipper exceeded the standard.
This recall's sweaterForNo. 0 to 8ofKids Size, fabric is wool, color isDark grey, blue or black are the basic colors, and it also has a multicolor pattern. In addition, the sweater also has a hat and a zipper at the front,Top and bottom of zipperstillThere is a pull rope.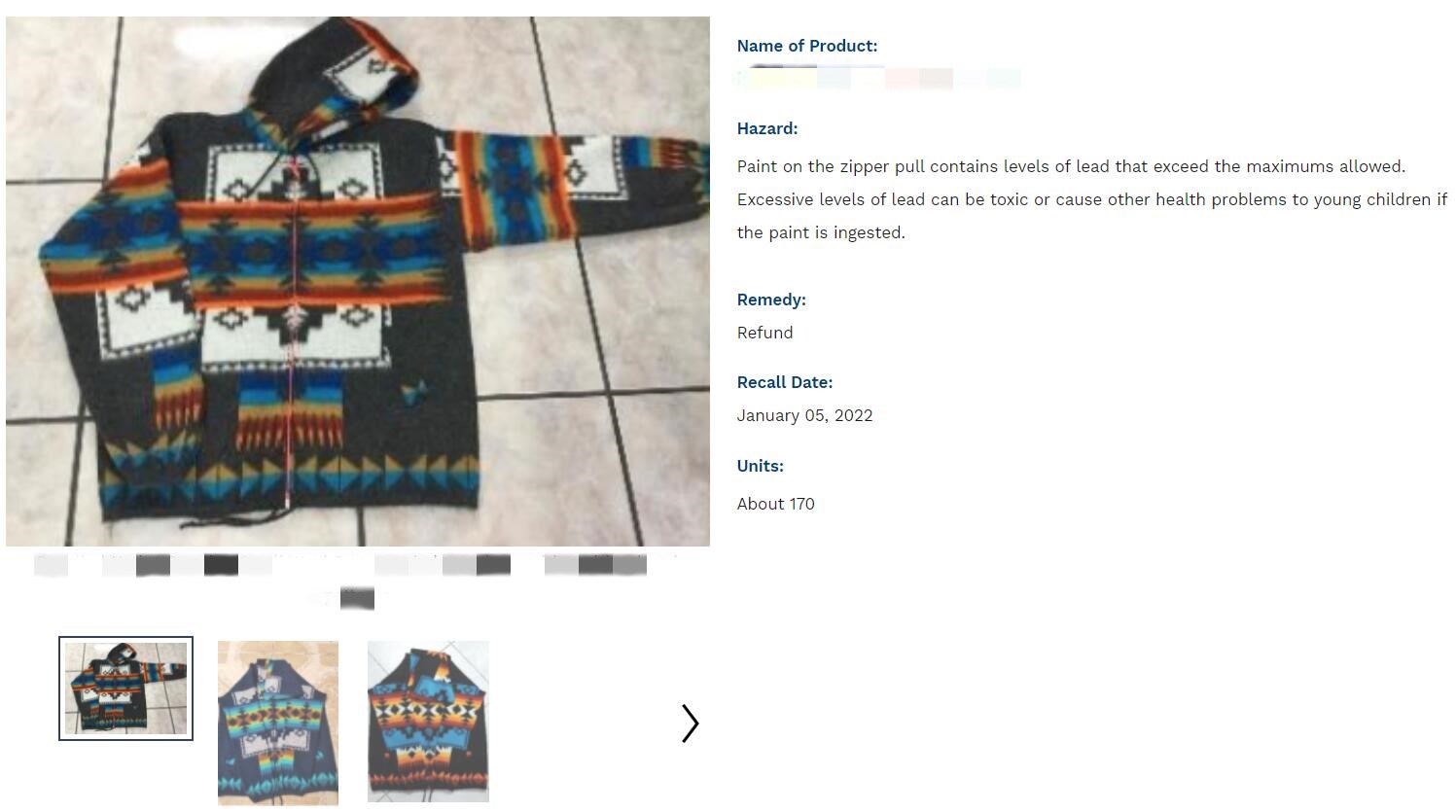 (picture sourceCPSC)
The reason for being recalled isPaint on zipper headInLead contentExceedance。 If paint is ingested, excessive lead maysendChildren are toxic or cause other health problems.The sweater is sold onFrom December 2020 to January 2021, the price is about $29.
According to the recommendations of the Consumer Product Safety Commission,Consumers should immediatelyStop using and contact the brand to get a full refund.
Among the reasons for the recall of clothing, the most common one is the flammability standard, because the recall cases that do not conform to the federal standards also occur from time to time, but the hidden risks in other aspects can not be ignored. For example, in the previous case,Risk of suffocation due to falling buttonsIt is also the reason for the recall. This time, it is caused by the lead content, and many small details need attention.
And in the first fewIn the research conducted according to the CPSC standard, the results show that the lead content of some brands of children's products exceeds 30 times of that allowed by the regulatory authority.
Excessive lead levels can cause serious health problems, including attacks on the brain and central nervous system, decreased fertility, depressionHeart and kidney diseases, etcThis risk may be more serious for children.
In response to this problem, some time ago, the governor of New York promulgated new legislation. Some products using lead based wire sleeves need to be labeled with warning labels, mainly for Christmas and various light decorations. Sellers who do not meet the standards will be fined.If the product contains lead, the seller must pay attention to the dosage standard.
Product quality problems should not be ignored, especially children's products. Sellers should be more cautious.