At the beginning of the new year, consumers' shopping desire is also very strong. In the last week of the end of the year and the first few days of the New Year, various celebrations continued to stimulate the consumption of New Zealand shoppers. Statistics show that the expenditure during this period was higher than the previous two years.
according toWorldline NZ Statistics show that after traditional New Year salesWithin 7 days on January 4, the sales of core retail merchants (excluding hotels) in the payment network reached US $696 million.This data has increased compared with the same period last year7%, 13% higher than the pre epidemic level.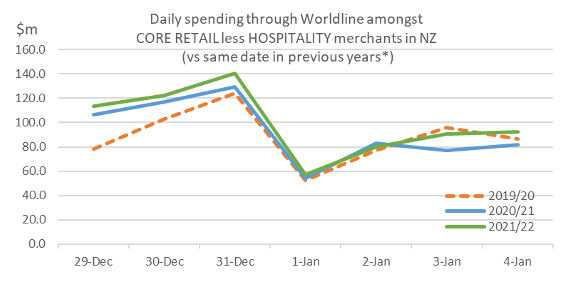 andOn the last day of 2021, New Zealanders also use their strong spending power to celebrate the arrival of the New Year.On this day, the total expenditure of national statistics is about140 million US dollars, an increase of 9% over the same period in 2020.
On New Year's Eve, liquor products are one of the most popular productsThe sales volume of USD 16 million is 13% higher than that of 2020.
According to the analysis, the growth of consumption expenditure in the New Year is largely due to the long-term blockade. Under the repeated impact of the epidemic, people were unable to shop normally or go out frequently, so they saved more money than before. With the popularity of vaccines, people seize the opportunity to meet with relatives and friends at the end of the year, so the opportunities to buy party supplies and food through the Internet also increase.
In addition, compare websites according to pricePriceSpyA comprehensive consumer survey conducted earlier found that36% of New Zealanders said that in 2021Boxing Day, the idea of buying giftsIn 2020, it decreased by 6%, 10% compared with 2019.
PriceSpyofNew Zealand Regional ManagerMeans that althoughBoxing DayIt is the largest flash shopping day in New Zealand, but recently they have also observed some changes in consumers' shopping behavior.
He said:"As Black Friday and Black Shopping Week become more and more popular, people hope to buy goods at a discount price before Christmas rather than after ChristmasBoxing DayMore popular.Because everyone may choose to reconnect with friends and family after a long-term blockade, instead of going to the store to consume."Therefore, online sales will be more popular with consumers than offline sales.
Despite the uncertainty of the epidemic, it has a great impact on both sellers and consumers. But in the long run, the fluctuation of sales volume is only temporary. Because consumers are also getting used to the online and offline shopping mode. As long as sellers do a good job in selecting products and selling services, it is not difficult to stabilize sales and create blockbusters.