Xiamen Jihong Technology Co., Ltd. was established in 2003, mainly engaged in the display and packaging of fast moving consumer goods. It is committed to establishing a full range of packaging supply chain procurement scenarios for brand fast moving consumer goods customers, and providing comprehensive services for customers to achieve one-stop procurement.
After its listing on the Shenzhen Stock Exchange in 2016, it rapidly expanded its packaging business while relying on creative design to develop precision marketing and cross-border e-commerce business. Currently, cross-border e-commerce has contributed nearly 60% of its performance, with JihongstockWe are also continuously laying out a new retail ecological environment in China.
There are 2 violations, Xiamen Dashai has received a warning letter
On December 28, 2021, just passed, JihongstockReceived the decision of the Xiamen Securities Regulatory Bureau on issuing a warning letter against Xiamen Jihong Technology Co., Ltd. issued by the Xiamen Securities Regulatory Bureau.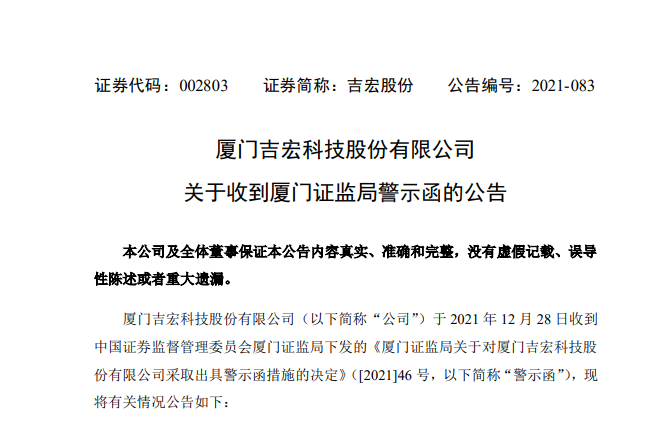 In the warning letter, the China Securities Regulatory Commission mentioned two violations of Jihong Shares:
1: Related party transactions were not reviewed and disclosed in a timely manner
Hong Kong Maggie Digital Technology Co., Ltd. has become Jihong since September 2020stockRelated parties. In 2020 and 2021, JihongstockAccumulated procurement of advertising services from Hong Kong's Meggitt affiliate amounted to 19.6875 million yuan and 11.934 million yuan respectively. But, JihongstockFailure to timely fulfill review procedures and information disclosure obligations as required.
2: Provide financial assistance to equity incentive plan recipients
JihongstockIn the 2021 restricted stock incentive plan announcement, it was mentioned that the source of funds for the incentive plan targets is employee self raised funds, and the company promises not to provide loans or any other form of financial assistance to the incentive targets.
In fact, JihongstockIn August 2021, financial assistance was provided to some equity incentive plan recipients in the name of payment for goods procurement and advertising fees to obtain relevant restricted stocks, with a total amount of 14.2118 million yuan.
The above situation violates the relevant provisions of the "Management Measures for Information Disclosure of Listed Companies" and the "Management Measures for Equity Incentives of Listed Companies". China Securities Regulatory Bureau's response to Ji HongstockTake administrative regulatory measures to issue warning letters and require them to submit written rectification reports.
JihongstockAfter receiving the warning letter, it was stated that effective measures will be taken to rectify the relevant matters in accordance with the requirements of the warning letter, and a written rectification report will be submitted to the Xiamen Securities Regulatory Bureau within the specified time.
Meanwhile, JihongstockThe statement states that this regulatory measure will not affect its normal production, operation and management activities. It will strictly comply with relevant laws and regulations, conscientiously fulfill its information disclosure obligations, and kindly ask investors to pay attention to investment risks.
Jihong Group contributes nearly 60% of its cross-border e-commerce performance
Jihong Group, founded in the packaging industry, has entered the cross-border e-commerce field in recent years and gradually developed into a comprehensive solution provider for comprehensive integrated marketing. At present, Jihong Co., Ltd. is focusing on the origin of creative design and deeply cultivating the packaging professional field, while also entering into precision marketing and cross-border e-commerce businesses, and empowering the two main businesses by combining blockchain technology.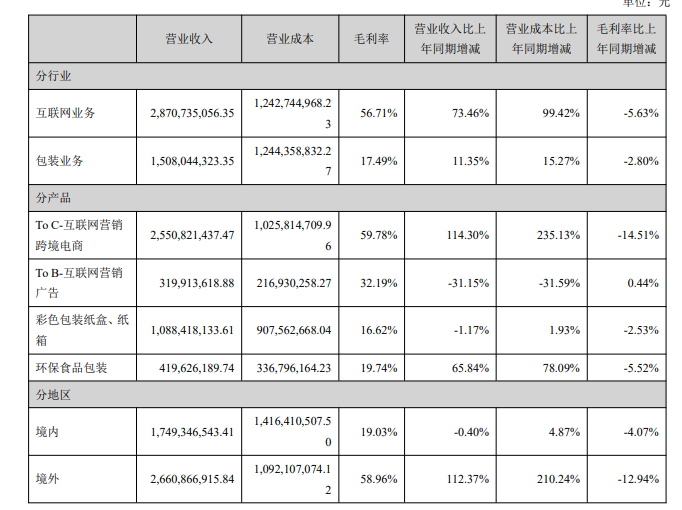 (Financial Report of Tuyuan Jihong Co., Ltd.)
two thousand and sixteenAfter going public in, the growth rate of Jihong's packaging business slowed down, and during the same period, many traditional industries began to embark on the path of internet transformation. Jihong also began to cross border into the cross-border e-commerce market. To this day, cross-border e-commerce business has become the main source of revenue for Jihong Group, contributing nearly 60% of its performance.
According to the financial report of Jihong Group, the global epidemic has spread and continued in 2020, and some consumers' offline living and consumption needs have shifted to online. With the effective control of the domestic epidemic and the rapid recovery of the supply chain, Jihong Group, relying on China's strong manufacturing industry chain advantages, broke through a historical high in cross-border e-commerce orders in 2020. The revenue from cross-border e-commerce business through internet marketing accounted for 57.84%, while the revenue from traditional colored packaging boxes and packaging boxes only accounted for 24.68%.
two thousand and twenty-oneIn the year, the cross-border e-commerce industry ushered in a cold winter, and the Amazon platform launched a fierce attack on Chinese sellers, causing a wave of blockades that caught cross-border sellers off guard. Jihong Co., Ltd. mainly relies on independent stations for product sales, and its cross-border e-commerce business has not been greatly affected. According to the 2021 semi annual report of Jihong Group, its cross-border e-commerce order size increased by over 60% from January to June compared to the same period last year, achieving a revenue of 139.0307 million yuan, an increase of 27.02% compared to the same period last year. The packaging business revenue was 984.4043 million yuan, an increase of 55.34% compared to the same period last year.
Jihong shares said that its cross-border e-commerce business mainly uses Facebook, Google, TikTok, Line, YouTube, Instagram and other foreign social network platforms to precisely push independent station advertisements for online B2C sales, and cross-border sales of cost-effective and distinctive Chinese products to Southeast Asia, Northeast Asia, the Middle East, Taiwan, China, Hong Kong and other countries or regions. In the first half of 2021, its cross-border e-commerce market share further expanded, continuing to maintain its leading position as an independent e-commerce platform in Southeast Asia.
In addition, Jihong Group is actively promoting the construction of new projects and continuously optimizing the investment layout of the industrial chain. In the future, Jihong Group will continue to promote its own brand construction, continuously improve its integrated marketing capabilities, actively expand sales in the domestic e-commerce market, and create new profit growth points for the company.
In terms of cross-border e-commerce, Jihong Group is building a cross-border e-commerce SaaS service platform for Southeast Asia and other small language countries, which has attracted the attention of many cross-border sellers.
Jihong Group's SaaS service platform, Jimiao Cloud, is about to undergo public testing
It is understood that Jimiaoyun is a SaaS service platform focused on cross-border e-commerce,Mainly providing services such as product selection, website establishment, marketing, warehousing, logistics, and customer management for merchants. To open up emerging markets in Asia for domestic cross-border sellers and international red bloggers, and achieve growth in cross-border business.At present, Jimiao Cloud platform mainly focuses on the Asian marketIncluding Taiwan, China, Hong Kong, Southeast Asia, Northeast Asia and the Middle East.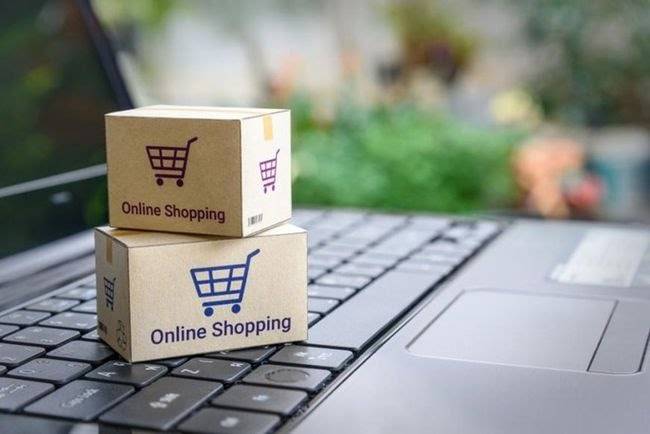 According to previous reports, Jimeo Cloud has launched internal testing in May 2021 and has opened a small range of free trials. It is said that Jimiao Cloud has strong supplier resource integration capabilities, which can coordinate dispersed suppliers and provide logistics support and cloud warehouse management systems for sellers. At the same time, meet the website building needs of sellers, connect them with mainstream overseas advertising channels (Facebook, Google, TikTok, etc.), and provide digital marketing services.
Sellers can also collect customer information from their independent websites through the Jimiao Cloud platform, and use the content marketing and promotion tools provided by the Jimiao Cloud platform to promote customer consumption and explore customer value.
Recently, Jihong Co., Ltd. stated that Jimiao Cloud received many feedback and suggestions during the internal testing period. In order to ensure the quality of platform launch and user experience, the company conducted repeated testing, improvement, and upgrade before the platform was officially launched. At the same time, due to the impact of the epidemic, the progress of platform testing has slowed down. Therefore, the public testing time of Jimiao Cloud service platform has been postponed to January 20, 2022.