TikTok's ability to attract and carry goods is well-known, and many sellers are starting to seize opportunities and catch up. Recently, Etsy announced a partnership with TikTok to provide platform sellers with more opportunities for communication and training, thereby further enhancing their promotional capabilities. TikTok is referred to by Etsy as"Unique and powerful marketing channels for small businesses".
However, for cooperation opportunities that many people are optimistic about, there are alsoSome sellers have reserved their opinions. They stated that fromObtaining returns from TikTok requires a lot of time and investment costs, and there will also be difficulties and challenges in screening platform content.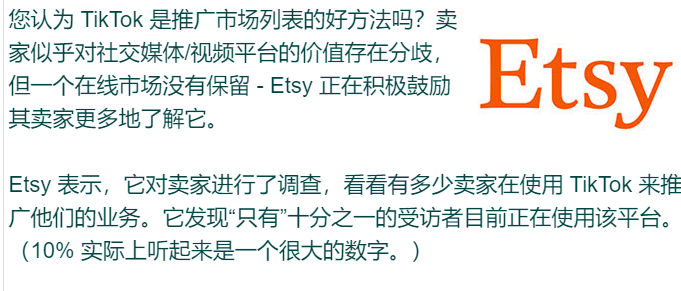 According to the data,Currently, 10% of sellers on the Etsy platform are using TikTok for product promotion. As a famous e-commerce platform in the United States, Etsy mainly focuses on handcrafted products as its main feature. TikTok, on the other hand, ranks among the top social e-commerce platforms. The cooperation between the two companies will make Etsy's advantages more apparent for other similar e-commerce platforms.
According to public information,Etsy's revenue in the third quarter of 2021 reached $532.4 million, a year-on-year increase of 17.93%. The profit was 89.93 million US dollars, a year-on-year decrease of 2%. The total sales of its products reached 3.1 billion US dollars, with 7 million new buyers.
From the above data, it can be seen that,Etsy's financial and market data are further growing, showing impressive performance. But since the outbreak, the platform has also faced many problems. However, compared to other e-commerce platforms in terms of supply issues, Etsy is relatively calm.
Previously, Etsy had stated that 90% of sellers on the platform purchased from nearby (i.e. from their own country or region). This also prevents the impact of supply chain issues from expanding on this platform.
Solved supply chain issues,Etsy naturally needs to focus more on platform sales, and the collaboration with TikTok is in line with the next development direction. andTikTok currently has over 1 billion monthly active usersThe effect of draining such a large group can be imagined.
But as some sellers have said, the time and investment costs required for sellers are high, and the conversion of traffic depends on the sellers themselves.