The year 2021 has passed, and many businesses have begun to make sales forecasts for the fourth quarter of 2021. Among the major categories on e-commerce platforms, clothing and footwear have always been considered "evergreen products". Among them,CrocsIt can be considered a leading brand in the footwear industry.
according toCrocsLatest news,The company stated that itSales in 2021expectCompare toGrowth of approximately 67% in 2020Higher than previous expectations.And yet to be announcedSales will increase in the fourth quarter42%Better than analysts' predictions36.6% growth.
Andrew Rees, CEO of Crocs, stated,In a challenging global supply chain environment,2021 is an extraordinary year for the Crocs brand.Crocsbefore alwaysIndicates itsAnnual sales revenuetakeincrease62% to 65%,before analystofexpectbyYear-on-year growth65%.
Compared to the expected growth, the brand's growth in the stock market has not been smooth,Crocs closed 2.5% lower on Mondayto$122.60.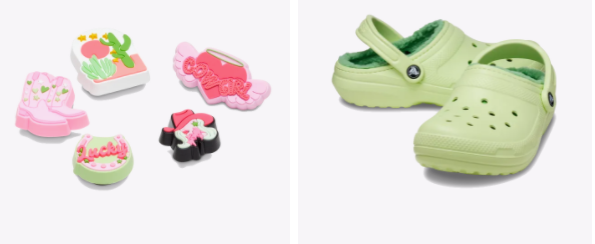 Image fromCrocs official website
Although the brand stillNo fourth quarter earnings outlook provided,But itsSectionFour SeasonsExpected growth value of42%It's worth looking forward to.Analysts expect Crocs' average earnings per share to be $1.39.

aboutIn 2022, Crocs reiterated its commitment to theExpected revenue growth exceeded20%.haveAnalysts expectThe brandWill increase compared to the same period last year32%.
goyearDecember,Crocs plans to acquire private shoe brand Hey Dude for $2.5 billion in cash and stock trading. The transaction is expected to take place inthis yearCompleted in the first quarter.
The brand was established inIn 2002, it ranked high among casual shoe brands and was loved by consumers due to its product quality and innovative concept.
According to public information, the brandCompared to the third quarter of 2020, the operating revenue in the third quarter of 2021 more than doubled to $203.1 million, and the operating profit margin expanded from 19.9% in the same period last year to 32.4%. In the third quarter, revenue increased by 73% to reach $626 million. The growth rate in the Americas region reached 94.5%.
CrocsChief Executive OfficerAndrew Rees has stated that it is expected that revenue in 2022 will increase by more than 20% compared to 2021. Although supply is affected by supply chain shortages, its growth remains strong driven by strong consumer demand.