At the beginning of the new year, everyone is full of expectations for the new year. But for cross-border e-commerce sellers,The beginning of 2022 seems to be not so smooth, and there are some necessary cost increases, making the burden on sellers even heavier.
Affected by the epidemic, port efficiency has been severely affected. Under the chain reaction, dozens of flights have been cancelled in recent weeks.
On January 7th, Meisen issued a notice of schedule change, making adjustments to the shipping schedule for the next few weeks. And immediately raised the shipping price.
Many cross-border sellers have bluntly stated:Wait for Meisen to rise to the sky. More research institutions have indicated that sellers may face significant shipping pressure in the next year or two.
This can cause headaches for sellers, especially those from Europe and America——How to fill in the expenses when the shipping cost has skyrocketed"
In addition, as early as last yearIn November, Amazon also issued a fee update notice, stating that by January 18, 2022, there will be 7 fee changes and multiple fee prices will skyrocket.
Unfortunately, it has reached the peak of stocking, which has disrupted many people's stocking plans. The frequent occurrence of events has made many sellers exclaim:Although the situation of cross-border e-commerce is getting better and better, how does it feel like it's becoming increasingly difficult to do
Many seller friends have also reported that:

Oh, it's a difficult year. Various price increases and financial pressures are too great
Not really! The peak season at the beginning of this year was very good, and stocking and promotion would have to come at a cost. It's a pity if we don't have the money
In order to help cross-border e-commerce sellers alleviate pressure, Wanlihui has just launched the New Year's heavyweight welfare. As long as you register through the activity page and make the first payment through Wanlihui's account, you can receive a free credit card with a limit of300000 RMB
Activity time:From January 1, 2022 to March 31, 2022
Activity target:
During the event, users who registered through this event page and made their first entry through a Wanlihui account.
Event conditions and rewards:
Condition: After registering to participate in the activity through this activity page, and onFirst recorded into the Wanlihui account on or before June 30, 2022.
Reward: Users who meet the above conditions can enjoy300000 RMB "free withdrawal limit".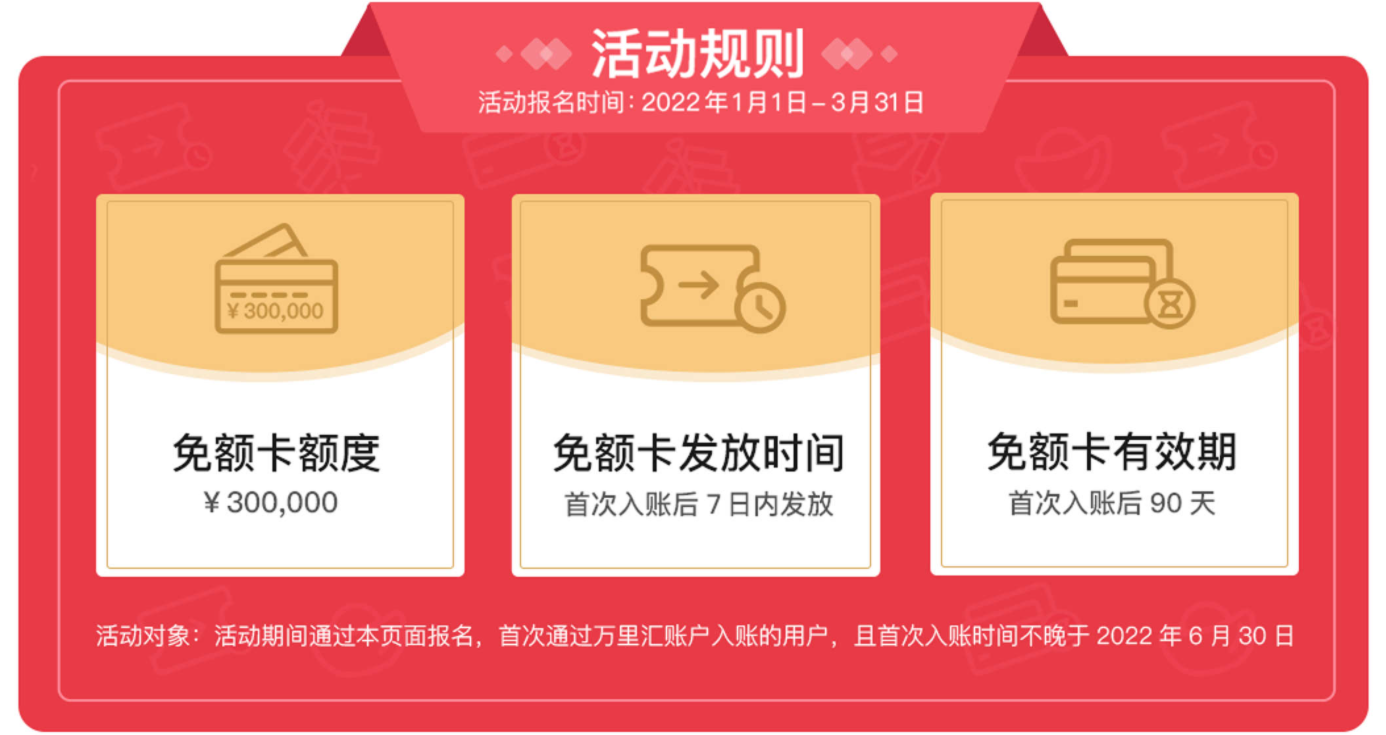 Cross border e-commerce sellers who need it, come and collect it quickly!