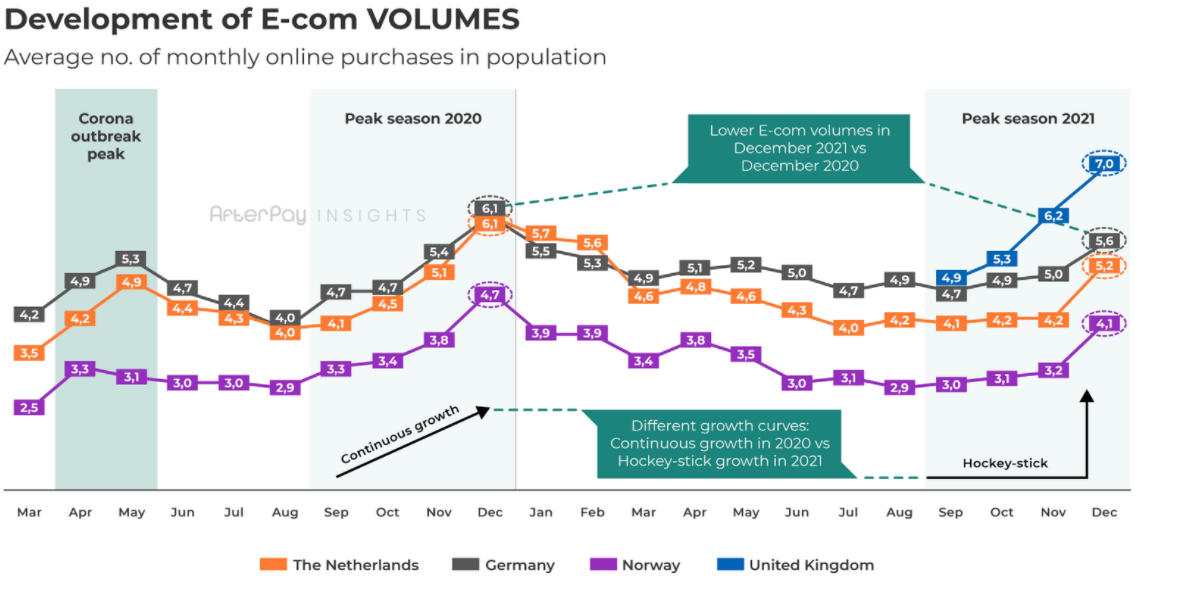 As shown in the above figure, when we compare the charts for 2021 and 2020, we can see a significant difference. The most obvious trend is the continuous growth of online shopping volume during the peak season of 2020, while the growth of online shopping volume in the first few months of December 2021 was relatively slow.
However, the trend of holiday shopping growth in December 2021 shows us a positive change in the average monthly online purchases per consumer. The average purchase volume of British consumers is the highest, with Germans ranking second and Dutch ranking third, but with the largest increase; Norway ranked fourth with 4.1 online purchases, but still experienced significant growth.
Compared to 2020, the number of e-commerce is still relatively low, but this year people seem to have become accustomed to the ravages of the epidemic, making 2020 an extremely abnormal year, while 2021 is a more normal year for e-commerce growth.
Although offline retail has gradually begun to recover, online shopping has not been greatly affected. Data shows that in the total expenditure of these European countries, the online share has increased.
two thousand and twentyIn December 2021, the Dutch online spending share increased from 47% to 49%. In Germany, the share of online spending in total expenditure reached 48% in 2021, an increase of 1 percentage point compared to 2020. Norway's share of online spending is also increasing, from 36% in 2020 to 38%. The UK's (only) measured value reached its highest share of 57% in December 2021.
During the peak season in these countries, the percentage of online spending is increasing, while the percentage of offline spending is decreasing. This means that during this busy holiday period of the year, consumers have a relatively high priority for online shopping in physical stores.
In summary, the peak season of 2021 shows an increase in online shopping volume, and the average monthly online shopping frequency may not be as high as in 2020, but the peak season is indeed worthy of its name. Compared to offline purchases, consumers are making more and more purchases online. In addition to the continuous increase in consumer online purchases, since 2020, consumer loyalty to online channels has also been increasing in 2021.
Therefore, it can be foreseen that there is still great potential in the European online market in 2022, and how to enhance the competitiveness of one's own brand and increase the repurchase rate of products remains the primary issue that e-commerce sellers need to pay attention to.