On January 17,B.DUCKThe parent company, Deying Holding, was listed on the Hong Kong Stock Exchange,totalMarket value exceedstwenty-sevenHK $100 million.Speaking of Deying Holdings, we are most familiar with its iconic intellectual property roleB.Duck。
It is reported that,B. DUCK was born in 2005,hisintroductionofFirst productbyBathroom waterproof radio,But the image of the productThe Little Yellow Duck was selected on the. Soon after its launch, it was very popular in the European and Japanese markets, and its popularity was rapidly improved.

thereafter,B.DUCKofImage of Little Yellow DuckstillUsedArrived at itsHome and stationery、kitchenandBathroom, etcVarious products,It is also sold on domestic platforms such as Tmall and JD, and the products sell well at home and abroad. Driven by the small yellow duck series products, the development process of Deying Holding also pressed the accelerator key.
According to public informationThe core business is mainly its brand and role intellectual property business.Its e-commerce and other businesses are mainly sold through third-party e-commerce platforms and offline channels,Mainly selling products featuring the role of B. Duck family。
At present, the company has created25 roles, including but not limited to Buffy, B The unique product design concept of Duck Baby, Dong Duck and Bath'N Duck has attracted a large number of consumers in different regions and population structures.

In terms of role intellectual property business, data shows thatAccording to the sales calculation in 2020, its market share in the domestic role of intellectual property products e-commerce is about 0.6%.The retail sales of authorized commodities of the overall role has increased from HK $39.3 billion in 2016 to about HK $40.4 billion in 2020。
In addition, the company said that,From 2021 to 2025The role authorization business market is expected to grow at a compound annual rateWith a growth rate of 5.7%, it will reach about HK $19.2 billion in 2025。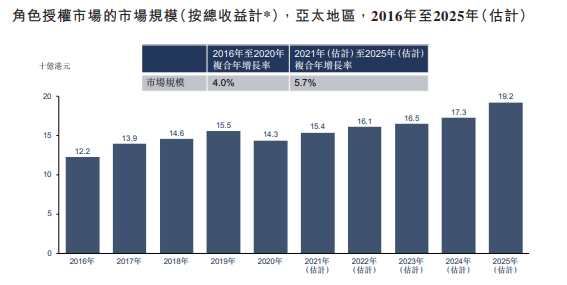 In fact, as early asIn March 2019, Deying Holdings applied to be listed on the GEM of Hong Kong Stock Exchange, but soon withdrew its listing application. In 2021, the company started the listing process again and landed on the Hong Kong Stock Exchange after a series of twists and turns.
It is understood that,In the first half of 2021, the company's operating income was HK $124 million, with a year-on-year growth of more than 33%, and its net profit was HK $17461000.