36 Kr went to sea and learned that according to APP Annie data, the number of monthly users of Bilibili Comics has exceeded 3 million, ranking the third in the English market outside China, Japan and South Korea, with a peak of 824000.
Bili Bili Cartoon was launched in 2018, and later acquired Netease Cartoon. It is reported that there are more than 10000 comic works on the site, including Guoman, Riman and other overseas copyrighted works. Bilibili Comics will be launched in April 2021. There are more than 500 works on the platform, including Guoman and some Hanman, which are English versions of the copyright works of Bilibili Comics. Recently, some works have also been launched in Indonesian. One of the most influential IPs of Bilibili Comics is Heaven Official's Blessing, which is adapted from the novel of the same name. Its animated version has successively landed on Funimation, Netflix and other overseas streaming media platforms.
According to the data of Fortune Business Insights, a market research companyThe epidemic situation and growing Internet users have further promoted the demand for online comics. The global online comics market is expected to grow to 7.36 billion dollars in 2021, and continue to grow at a compound annual growth rate of 6.1%, reaching 11 billion dollars by 2028.
To meet the market demand, the online comic platform has been successful. Naver and Kakao from South Korea can be called the two giants of online comic industry. Kakao launched Kakao Piccoma in Japan in 2016,Become the online comic platform with the largest revenue in Japan and even in the world。 In 2014, the LINE Webtoon under Naver was officially launched, and now it is the most active online comic platform in the world.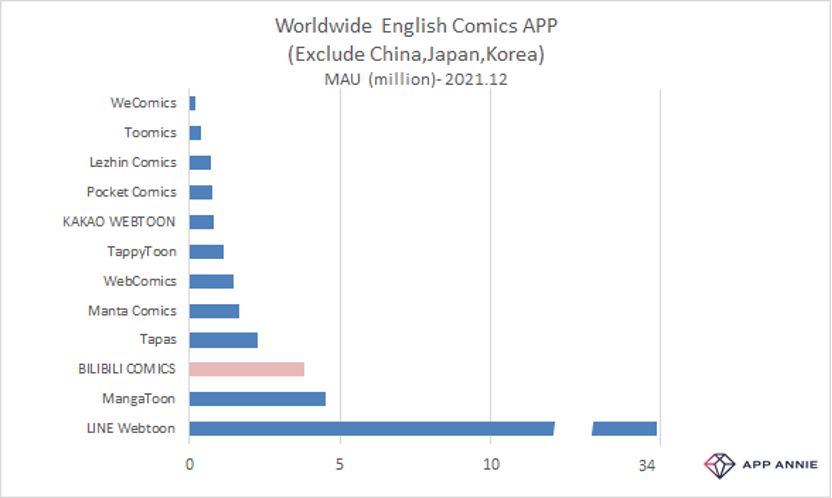 According to 36 Krypton Sailing, in terms of business model, Bilibili Comics has no advertisement at present. It adopts the mode of chapter payment or time limited unlocking (unlocking after waiting for a period of time). There are more than 200 paid works in total. The growth mainly comes from free customer attraction, KOL cooperation and advertising.
It is not uncommon for Guoman's high-quality works to be released overseas through agents or platforms. Before the platform went to sea, there were WebComics and Mangatoon, and in the past two years, there were WeComics, an overseas version of Tencent Animation, a domestic head cartoon platform,Look at the comics and publish the "Columbus" plan in 2021, announced its entry into the global market.
The main markets of Bilibili Comics are in North America, Europe and Southeast Asia. APP Annie data shows that MangaToon and Bilibili Comics from China rank second or third in the English comic application outside China, Japan and South Korea. It can be said that the English online comic platform market is currently occupied by Chinese and South Korean companies. In 2021, Webtoon and DC announced cooperation and Kakao acquired Tapas, the fourth largest company in Yuehuo, with US $510 million. Korean companies with successful experience have entered a new expansion stage in the English market.
"Parasite" won the Oscar and "Squid Game" became popular. Narration from Asia is gradually finding a foothold in the global entertainment market. The domestic head platform holding IP resources may also be able to become a boat crossing the sea for Guoman to explore new business opportunities in overseas markets.
Article | Shi Yi
Editor | Zhao Xiaochun
Figure | Enterprise official website