According to the application analysis platform Apptopia data, Shopee will be the shopping application with the highest download volume in the world in 2021.
Amazon ranked first in the number of downloads of shopping applications in the United States, but the number of global downloads dropped from the first in 2020 to the fourth, lower than Shope, SHEIN and Meesho. Apptopia only counts Apple data in China, while download data from Apple and Android stores in other regions are included.
Shope will have 203 million downloads worldwide in 2021, ranking first among shopping applications. Shopee is a leading shopping website in Southeast Asia. It also performs well in many countries in Europe and America, such as Brazil and Poland. Shopee is also expanding to more regions, such as India.
Fast fashion e-commerce SHEIN is the second most downloaded shopping application in the world, with 190 million downloads increasing by 70% compared with 2020. SHEIN 2008, founded in China, has entered more than 150 countries and regions, with Europe, the United States, Australia and the Middle East as its main markets.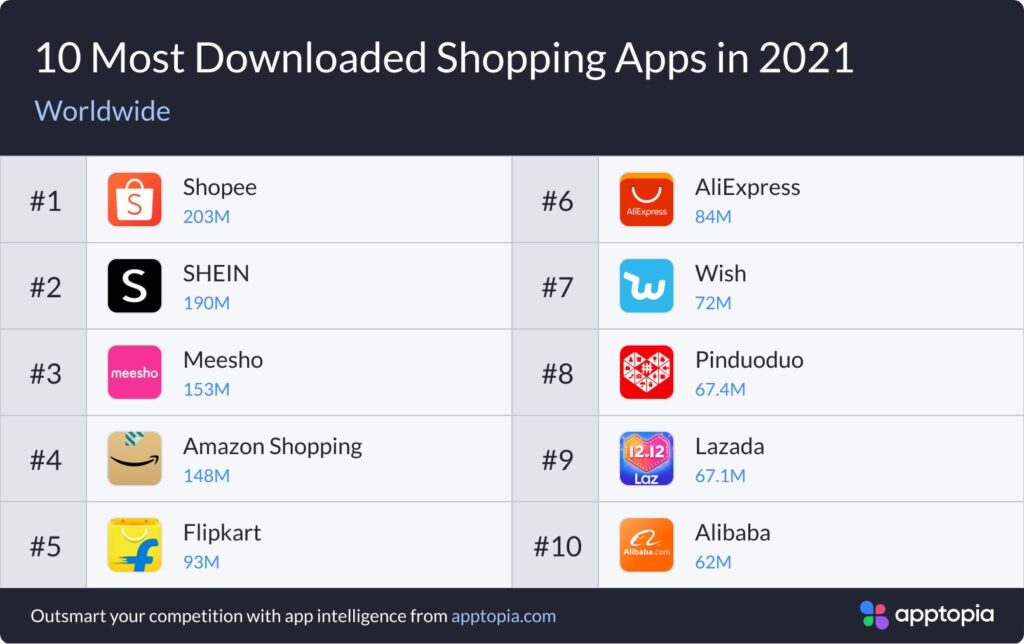 Meesho, an Indian social e-commerce company with the third largest number of downloads in the world, was founded in 2015, mainly selling clothes, cosmetics and household products. Meesho users can either purchase goods directly or distribute them through social channels. Meesho has not expanded overseas, but it has the largest number of downloads in all categories of applications in India.
Amazon will rank fourth with 148 million downloads worldwide in 2021. According to the analysis of Marketplace Pulse, an e-commerce research company, the new markets Amazon entered last year were all small, such as Egypt and Poland, and it was difficult to achieve a substantial increase in downloads. Amazon still ranks first in the US in terms of downloads, but Marketplace Pulse predicts that it may be replaced by SHEIN or Shopify in 2022.
Shopify's application Shop launched in 2020 has a remarkable performance. In 2021, its download volume in the United States will be second only to Amazon and SHEIN. Shop combines the functions of Shop Pay, logistics tracking and shopping.
The Buy Now Pay Later (BNPL) application Klarna combines financial services and shopping functions. In 2021, it will enter the top 10 downloads in the United States for the first time.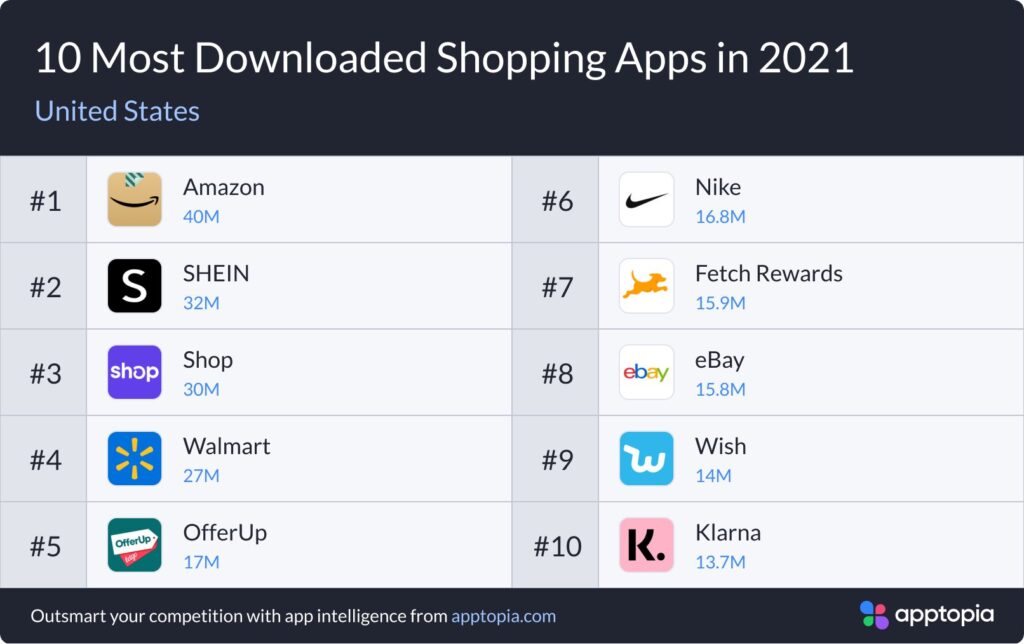 The number of downloads of the "Pinduoduo" Wish has declined. In 2021, the number of downloads worldwide will be about 72 million,According to Marketplace Pulse statisticsThe number of downloads in the United States is about 14 million, down 53% from 2020.
Article | Shi Yi
Editor | Zhao Xiaochun
Figure |Unsplash,Apptopia