Editor's note: The article is selected from KrASIA, the original titleIndonesia's digital banking sector sees rapid development in 2021 | KrASIA Year in Review By Khamila Mulia
Maya Nawangwulan is an employee of a start-up in Jakarta, who often uses various payment platforms, including GoPay, OVO, ShopeePay, etc., and is also happy to try new financial technology products. In June, she opened an account in Line Bank. At that time, Line Bank had not been officially launched. If she registered in advance, she could get a reward of 300000 rupiah (about 21 dollars). Line Bank is a digital bank supported by Hana Bank.
"The registration process is very simple. I just need to fill in my personal information, upload my ID photo and take a self portrait with my ID. Then the customer representative contacted me to verify the information. A debit card was sent to my home two days later." Nawangwulan told KrASIA.
She also registered two deposit accounts in Line Bank. "This is my first time to open a deposit account. What attracted me was the deposit amount of Line Bank as low as IDR 1 million (about US $70), with an annual interest rate of about 4%, which is higher than many traditional banks." She was satisfied with the convenience and product diversity of digital banking.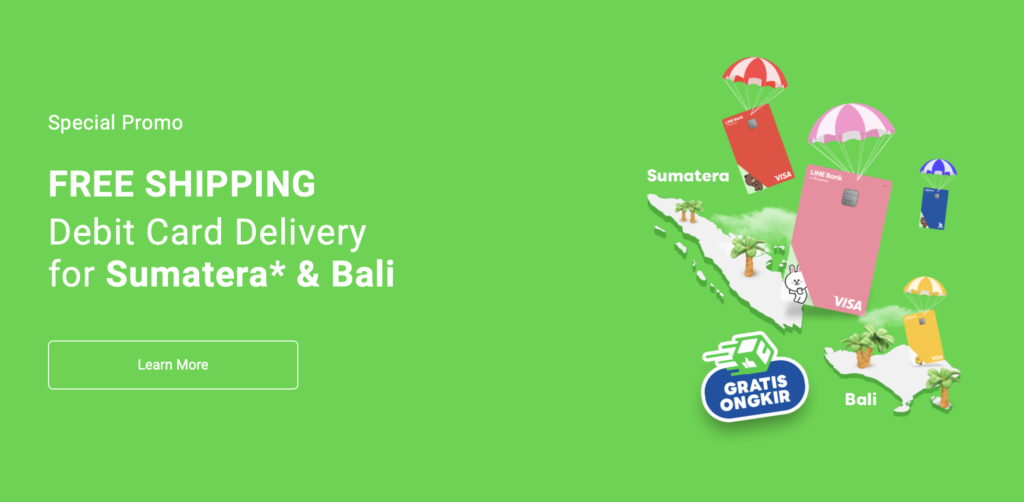 Like Nawangwulan, many Indonesians will start using digital banking services in 2021.According to a report data of FinderAbout 24.9% of adults in Indonesia have digital bank accounts. By 2026, the utilization rate is expected to increase to 39%.
"It is not easy to obtain a banking license anywhere in the world. But the wave of digital banking in Southeast Asia has provided companies with opportunities to enter the financial industry." Zennon Kapron, director of Kapronasia, a financial technology research and consulting firm, told KrASIA.
It is no surprise that many technology companies have set foot in digital banking. Kapron said that Line Bank, Gojek, Akulaku, WeLab and other companies plan to provide a full range of digital banking services. These are digital first companies with a large amount of data that can be used to create a highly personalized banking service experience.
Indonesia's digital banking industry has developed rapidly in the past 12 months. After Gojek integrates Bank Jago services, users can open bank accounts in Gojek's super applications. Many other companies have also launched digital banking services. The new players include Seabank of Donghai Group, Neo+belonging to Akulaku's acquisition of Bank Neo Commerce, Line Bank of Hanya Bank, Blu of BCA Digital, etc. Some of these banks also access e-commerce applications or cooperate with e-commerce to become payment methods for these platforms, such as Seabank and Shopee, Blu and Blibli.
It is reported that Bukalapak, an e-commerce company, will also cooperate with Standard Chartered Bank to launch digital banking services, and Grab will form a joint venture with Emtek Group to set up a digital bank in Indonesia.
"The whole banking industry is embracing the digital process, including us. Bank Neo Commerce (BNC) has only been established for one year and is still improving its services. The digital process of the banking industry will continue to deepen, and new digital banks will emerge in the next few years." Tjandra Gunawan, president of BNC, told KrASIA.
He added that it only took users "two minutes" to open an account at BNC. In addition, BNC also provides savings products with an interest rate of 6%. Users can transfer money using their phone numbers. Since its launch in March, the number of downloads of BNC applications has exceeded 10 million.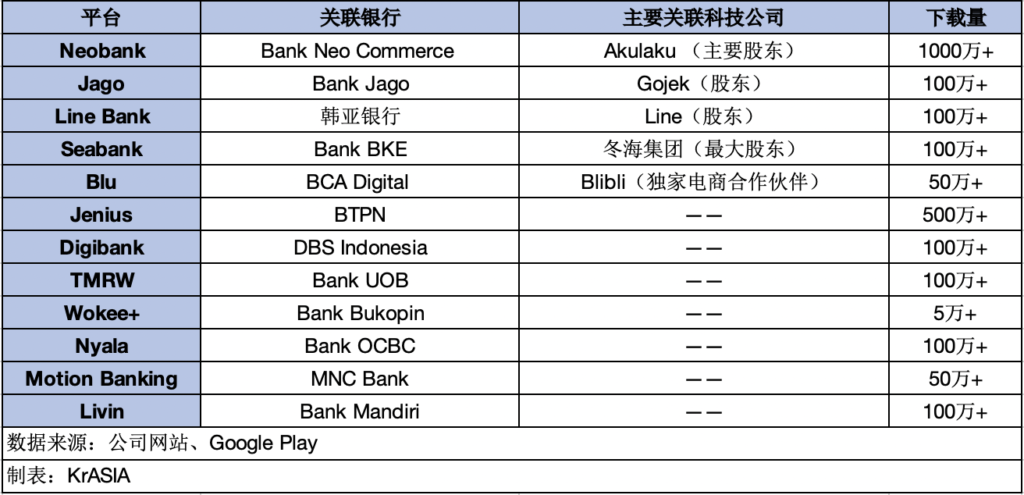 About 66% of the 275 million Indonesian residents do not have bank accounts at present. There are also more than 60 million small, medium and micro enterprises (MSMEs) in Indonesia. According to the data of Bank of Indonesia, about 70% of them cannot obtain credit. Digital banks are expected to provide these individuals and enterprises with new options to access financial services.
Gunawan said: "Inclusive finance is a long-term process. In order to serve the people who do not enjoy financial services fully, our strategy is to cooperate with different Internet companies, especially lending financial technology companies. We believe that cooperation in providing digital products that meet the needs is the key to promoting inclusive finance."
In order to create an orderly and safe ecosystem, the Indonesian Financial Services Authority (OJK, Otoritas Jasa Keuangan) introduced a series of new regulations in August. OJK allows digital banks to operate without branches or only online, but they must have a registered headquarters in Indonesia. Digital banks can be transformed from traditional banks or new entities. For newly established banks, the minimum capital required by the regulation is IDR 10 trillion (about US $698 million).
OJK also described aDigital Banking Blueprint, including the working principles of five fields: data control, technology, risk management, cooperation and institutional arrangements.
However, the development of digital banks also faces challenges. Low financial literacy and insufficient Internet infrastructure outside big cities are the biggest obstacles to the popularization of digital banks.
Kapron said: "Although the smartphone penetration rate has increased, user education is still a key challenge in terms of device use and responsible use of digital financial services. The government is trying to fill this gap, but it still needs time."
Kapron believes that the competition in Indonesia's digital banking industry is just beginning, but there will be more innovations in products, services, integration with financial technology and consumer platforms in the future.
"No matter how successful these digital banks will be in the future, they will still face fierce competition in the short term."
For companies entering digital banking business, the key is to provide differentiated services. Kapron said: "Traditional banks have large balance sheets and profits that can be used to maintain competitiveness. It remains to be seen whether new competitors have the same ability."
Article | Shi Yi
Editor | Zhao Xiaochun
Figure | Unsplash, the company's official website