Influencer Marketing Market in 2021Estimated to reach 13.8 billion US dollars, andMore than 450 billion dollars of global digital advertising investmentIt seems that it is not a big cake. However, when the traditional purchase volume competition intensifies, the launch restrictions become more and more detailed, and the platform launch moves towards intelligence, online celebrity marketing provides another choice for brands to reach consumers.
In the view of the Global Star team, with the help of online celebrity marketing, Chinese overseas brands can directly communicate with overseas consumers in a more localized way to improve brand influence. Global Star was established in 2020. Its team is located in Vancouver, London, Beijing and Shanghai. It mainly provides brands with overseas content marketing planning services in North America. Its core businesses include social media KOL launch, material content production, etc. Global Star service brands include PatPat, Urban Revivo, Huaxizi, Covos and other clothing, beauty and 3C product brands. According to the team, the current brand repurchase rate and single customer investment growth are both good.
According to the data provided by the Global Star team, in terms of blogger resources, at this stage, Global Star has signed an exclusive contract with 116 North American KOLs, with fans ranging from 300000 to 7 million+, signed an overseas KOL 5000+business contract, and deeply cooperated with 50000 KOLs&KOCs, covering YouTube, Instagram, Tiktok and other platforms.
How to develop a marketing plan and measure the effect? Global Star's experience is that different brands have different marketing goals for KOL, and Global Star will formulate corresponding plans according to the brand's needs for exposure, ROI or CPR. In the process of implementation, Global Star will screen according to the self researched blogger database, and then match with the manual experience. At the same time, the material production and implementation control will also be jointly conducted by Global Star's teams at home and abroad to complete the localization of materials.
There are many uncontrollable factors in KOL marketing. The pain points of overseas KOL marketing include the low reach rate of bloggers, opaque promotion prices, and low launch execution efficiency. Ren Yufei, the founder and CEO of Global Star, believes that the biggest advantage of Global Star is that it has an overseas professional team that can sign contracts and negotiate prices with overseas KOL. At present, the reach rate of cooperative bloggers is about 90%, and the bargaining space with in-depth business bloggers reaches 10% - 50%.
Ren Yufei said that the current monthly income of Global Star is nearly 100 times higher than that of January this year. In terms of profit, it mainly comes from the launch fee, service fee and material production cost. At the same time, Global Star is also planning live broadcast business.
Influencer Marketing Benchmark Report 2021The survey shows that the biggest change of online celebrity marketing in 2021 compared with 2020 is the significant growth of brands in TikTok. 68% of respondents in the report will conduct KOL marketing through Instagram, followed by TikTok, reaching 45%.
Many of Global Star's launch cases are in TikTok. Ren Yufei also said that he aimed at the users of Generation Z, and the brand's launch in TikTok grew very fast. However, it seems that TikTok is in the early stage of commercialization, and it is still early to talk about ROI. In particular, the TikTok shopping cart function in North America is still in the testing stage, and the transformation chain is not perfect. However, TikTok has the advantage of low traffic cost and cheaper exposure compared with other platforms. The Global Star team also shared the data they observed. Usually, the TikTok platform CPR is better than 1%. At this stage, for KOL marketing, the brand will also refer to the website inbound and Google search growth. As TikTok's commercial layout is gradually developed and the transformation effect is expected to be improved, the brand can consider layout in advance.
In the field of KOL marketing, many domestic and foreign companies have also launched integrated service platforms to integrate and match KOL resources and business needs, and evaluate the effectiveness of the launch. To what extent will KOL marketing become automated?Influencer Marketing Benchmark Report 2021The survey results differ on this, with 56% believing that automation can be achieved and 44% holding the opposite opinion. Ren Yufei said that he believed that KOL marketing was still a labor intensive work, which could not be replaced in the short term, but it was undeniable that automation would be the development trend in the future.
On December 16, the fourth stop of "LET'S CHUHAI CLUB Sailing to Southeast Asia Series Salon" jointly sponsored by Singapore Economic Development Council and 36 Krypton Sailing to the Sea will arrive in Beijing. This activity will focus on the hot topics such as enterprise service companies' market strategies in Southeast Asia, how multinational enterprises break through cultural barriers, and discuss business opportunities and challenges for enterprises to go to Southeast Asia, so as to create a next-generation global enterprise.
welcomeClick the article,Sign up for the event.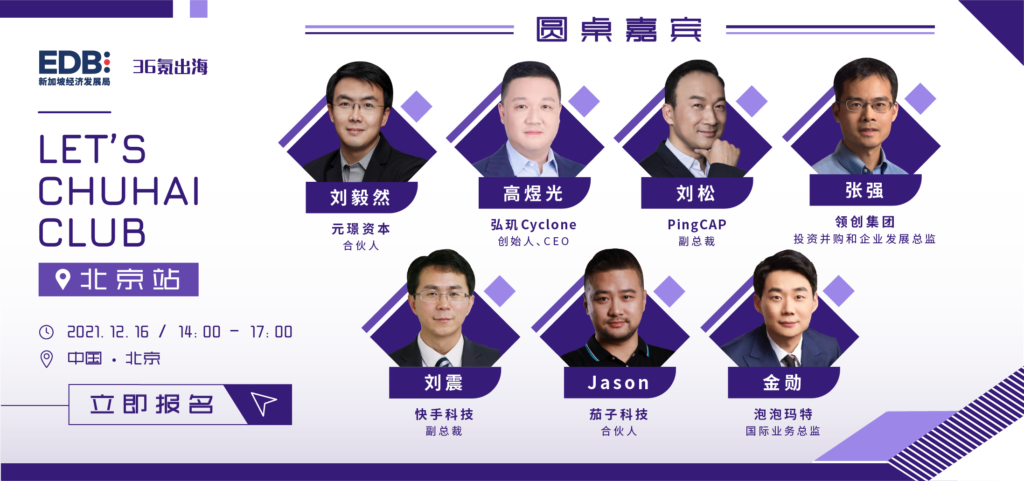 Article | Shi Yi
Editor | Zhao Xiaochun
Figure | TikTok's Facebook Account