36 Krypton went to sea to learn that Mabang Software, a cross-border e-commerce service provider, completed rounds A and A+financing, and the total scale of the two rounds of financing was about 150 million yuan. A-share e-commerce SaaS's first shares of Optical Cloud Technology and Huaying Microleague Fund respectively participated in the financing of the A round and A+round of Mabang Software. Among them, Holding Capital acted as the exclusive financial adviser in the A+round.
As a benchmark enterprise in cross-border e-commerce industry, Mabang Software (formerly Mabang ERP) is not only an ERP software company, but also an e-commerce solution organization. It has Mabang ERP, Mabang ERP Amazon Special Edition, Mabang SCM Management System, Mabang Cloud Warehouse, Mabang TMS, Mabang cross-border distribution, Mabang WMS warehouse management system and other products, providing efficient management methods and solutions for cross-border e-commerce sellers. Its founder Zhang Jie (known as the "leader" in the industry) has been engaged in the cross-border e-commerce industry for more than 10 years, witnessing the development of e-commerce in China. The rudiment of caravan ERP is a system developed by Zhang Jie for the company. Around 2010, Zhang Jie began to set up a professional team and improve and "commercialize" the system.
In terms of business layout, Mabang provides cross-border e-commerce platform sellers with solutions and data services from various aspects such as store opening, brand sailing, product selection, product release, logistics, warehousing management, supply chain management, financial services, sales channel expansion, publishing, etc., helping sellers develop rapidly. In the product selection stage, the caravan provides a number of service modules, such as popular product recommendation, new product recommendation, hot sale recommendation, discount recommendation, and product monitoring, to provide category research or product analysis for sellers to help them find products suitable for sale. In addition, Mabang also provides customized ERP for e-commerce platforms such as Amazon and independent stations such as Shopify, for example, Mabang ERP for Amazon, to achieve one-stop Amazon store management, help sellers achieve data closed-loop, and help business growth.
In addition to serving e-commerce platform sellers, Mabang also provides corresponding services for cross-border e-commerce industry chain enterprises. Zhang Jie, the leader of the gang, said: "In order to improve the efficiency of collaboration between the seller and the supplier, the caravan has developed the caravan supply chain SCM management system, which greatly improves the enterprise's supply chain management level, redefines procurement, improves cash flow, and reduces procurement costs. After the seller opens background permissions for the supplier, the supplier can follow the order status in real time through the caravan supply chain SCM management system."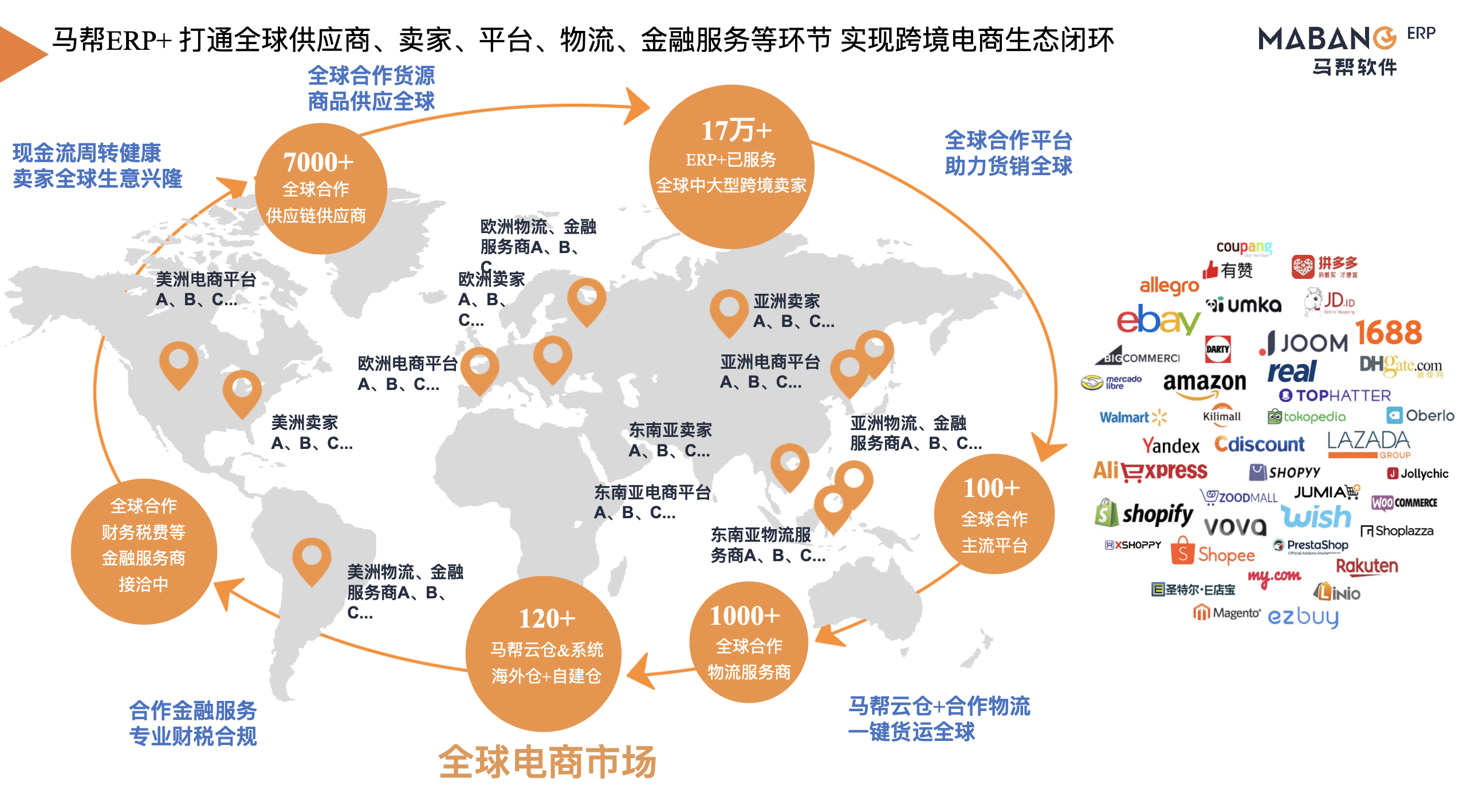 In terms of revenue, Mabang's revenue mainly comes from SaaS subscription and value-added services including ERP. At present, the core user group of Mabang is medium and large sellers. According to the latest data provided by Mabang Software, the company's monthly revenue has exceeded 10 million, of which the medium and large sellers have contributed more than 80%.
As for the future development, Zhang Jie, the leader of the caravan, said that the caravan was promoting its globalization strategy and industrial chain layout. In addition to Indonesia, Malaysia, the Philippines, Vietnam and Thailand, which have already been laid out, we will also further lay out Europe, the United States and some emerging markets. At present, in Southeast Asia, the caravan has reached cooperation with Lazada, Shopee, Tokopedia and other local giants, and provides services for local sellers in Europe and the United States.
Mabang is also exploring more business areas, aiming to polish a complete set of global e-commerce solutions for each link and improve the efficiency of global commodity circulation. It is reported that Mabang provides global distribution services for sellers lacking supply chain in overseas markets. After selling the goods, the seller realizes overseas warehousing and consignment business through Mabang TMS. In addition, the Mabang Cloud Warehouse built by Mabang for warehouse operation cost, delivery efficiency, warehouse utilization and other industrial problems realizes cross-border and multi regional warehousing deployment, provides overseas warehouse, domestic warehouse, warehousing services and other services, realizes unified management of platform, logistics, orders, inventory, capital and other data, and integrates the needs of third-party financial service institutions, finance and taxation, legal consulting and other aspects into its ecosystem, Provide the seller with a full range of services.
Recently, the cross-border e-commerce SaaS industry is very hot, and players have been favored by capital. Several investors expressed their views on this round of financing:
Fu Chun, Vice President of Optical Cloud Technology, said: "In 2020, the epidemic will spread around the world, and cross-border e-commerce is gradually becoming a new engine for China's foreign trade development. At the same time, the national policy dividend on cross-border e-commerce has been released continuously, attracting more and more businesses to join the cross-border e-commerce field, and the market scale has continued to expand. As the first batch of senior players in the cross-border e-commerce service field in China, the Mabang is one of these players in product layout, customer size, business maturity and other dimensions A leader in the field; Optical Cloud Technology has been deeply engaged in the e-commerce SaaS field for more than ten years, with a full link product layout serving large, medium and small sellers. At present, Guangyun Technology and Mabang have reached a deep cooperation. The two sides will carry out in-depth cooperation in many fields, such as product collaboration, sales integration, channel expansion, etc., give full play to their respective business and service advantages, and jointly provide Chinese sellers with better services to go overseas. "
Liu Zhenyu, director of Huaying Capital, said: "Huaying has been paying attention to the opportunities in the field of industrial digitalization, and going to sea is one of our key directions. China has strong manufacturing and supply chain advantages, and its products have huge market space to go to sea. At the same time, e-commerce penetration in overseas markets is rapidly increasing, further promoting the rapid development of cross-border e-commerce. We also see that cross-border e-commerce has long business links, high complexity, and sellers' digital business links There is a rigid demand for localization. The team of Mabang has very rich experience and profound understanding in the field of going to sea. They also have a firm belief in digitalization. By means of "digitalization" and focusing on "commodities", they focus on the needs of sellers, create a service matrix, provide cross-border sellers with closed-loop solutions for e-commerce business, and become a platform level company in the field of cross-border e-commerce services. We are very optimistic about the future development of Mabang.  "
Microleague said: "Mabang is one of the service providers that entered the cross-border e-commerce ERP field earlier. It has focused on serving cross-border sellers for more than a decade and is a benchmark enterprise in the cross-border e-commerce industry. The investment of Huaying Microleague Fund in Mabang will help Microleague further expand its business in the cross-border e-commerce SaaS field and accelerate its" internationalization "strategic layout. Microleague plans to base itself on its leading advantages in digital commerce and TSO full link marketing services, Combining the advantages of Mabang's ERP and cross-border e-commerce solutions, explore the multiple cooperation opportunities of the two sides, form a stronger synergy, provide domestic and foreign e-commerce enterprises with all-round services such as brand sailing, ERP, supply chain, TSO full link marketing, and help enterprises seize the opportunities of cross-border e-commerce development. "
With the rapid increase of performance brought by the epidemic, the purchasing power and demand of domestic and foreign platform sellers for relevant service software have also risen. If cross-border e-commerce is still a gold mine, Mabang wants to be the "gold carrier" beside the gold mine to help cross-border e-commerce sellers achieve performance growth. Mabang hopes to contribute to China's becoming a world store.
Scan the code to get the operation map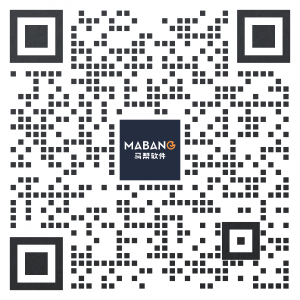 Wen | Deng Yunxi
Editor | Zhao Xiaochun
Figure | The drawing provided by the caravan
LET'S CHUHAI CLUB SALON
On April 15, the first salon of LET'S CHUHAI CLUB, built by 36 krypton, will be held in Shenzhen. This activity will discuss globalization from several hot topics, such as brand sailing, cross-border e-commerce, financial technology and overseas marketingwaveHow can China's offshore enterprises plan and move forward, and talk about the current crisis and challenges.
Welcome to scan the code and fill in the form to register for offline participation.